Un workshop di approfondimento sulla rete EHRI
1 luglio 2021, 10.00-12.00
sulla piattaforma digitale zoom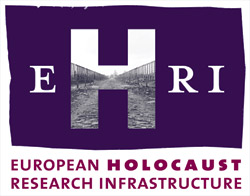 Intervengono:
Karel Berkof | NIOD, Amsterdam
Alex Avraham | Yad Vashem, Gerusalemme
Lorenzo Camerini |Arolsen Archives, Bad Arolsen
Laura Brazzo | Fondazione CDEC, Milano
Nell'ambito delle attività del progetto EHRI – European Holocaust Research Infrastructure, The Arolsen Archives in Germania, la Fondazione CDEC in Italia e lo Yad Vashem in Israele organizzano un workshop intitolato "The EHRI Project in Italy: Expanding the Network of the Research Community".
Il workshop si rivolge a professionisti ed esperti di varie aree e discipline – studiosi, archivisti, record managers, digital humanists – interessati a conoscere più da vicino le attività e potenzialità del progetto EHRI, impegnato nella creazione di una comunità di esperti nel campo degli studi sulla Shoah.
Il workshop propone, insieme a una breve presentazione di EHRI e del contributo italiano al progetto, interventi dedicati alla documentazione italiana conservata presso gli archivi di Bad Arolsen e Yad Vashem.
Gli interventi sono volti ad illustrare la trasversalità delle ricerche e la dispersione fisica della documentazione, così come i benefici e le opportunità derivanti dall'integrazione e strutturazione delle informazioni sulle fonti archivistiche e dall'attività di networking fra ricercatori e archivisti.
Il workshop si propone anche come una riflessione comune sulle problematiche collegate alla ricerca e al lavoro con la documentazione della Shoah italiana in un contesto interdisciplinare. Sarà un'occasione per una discussione aperta fra i partecipanti su temi e questioni riguardanti l'ampliamento della partecipazione italiana al progetto.
*Il workshop si terrà in italiano e inglese, a scelta dei presentatori.
Registrazioni entro il 24 giugno 2021, al seguente link:
https://www.eventbrite.it/e/biglietti-ehri-project-in-italy-expanding-the-network-of-the-research-community-159436307287